Prices and rates are higher, why are we seeing bidding wars again?
Last month I wrote about the winter slowdown and year end statistics. I wrote things would keep moving quickly, but buyers might have some easier opportunities. Unfortunately for buyers, that didn't last too long with the market heating up faster than I expected with the pre-Spring market. Our last couple of listings saw multiple offers and sight unseen offers. I would say it's still calmer than last year (5 offers on a house that we might have gotten 8 last year). I know it seems crazy that things are that competitive when interest rates are 2.5% higher than a year ago. This is all due to your basic high school economics, supply and demand. There are more people that wanting to buy than there are houses available to buy. A balanced market is 5-6 months' worth of inventory and Dane County currently has 1.7 months of inventory. This is partly due to below average new construction numbers for a 10+ year period. It's also due to a limited number of homeowners that want to sell. When a homeowner is locked into a 3% mortgage rate (or less) it's hard to want to sell. Here's what the inventory looks in communities around Dane County.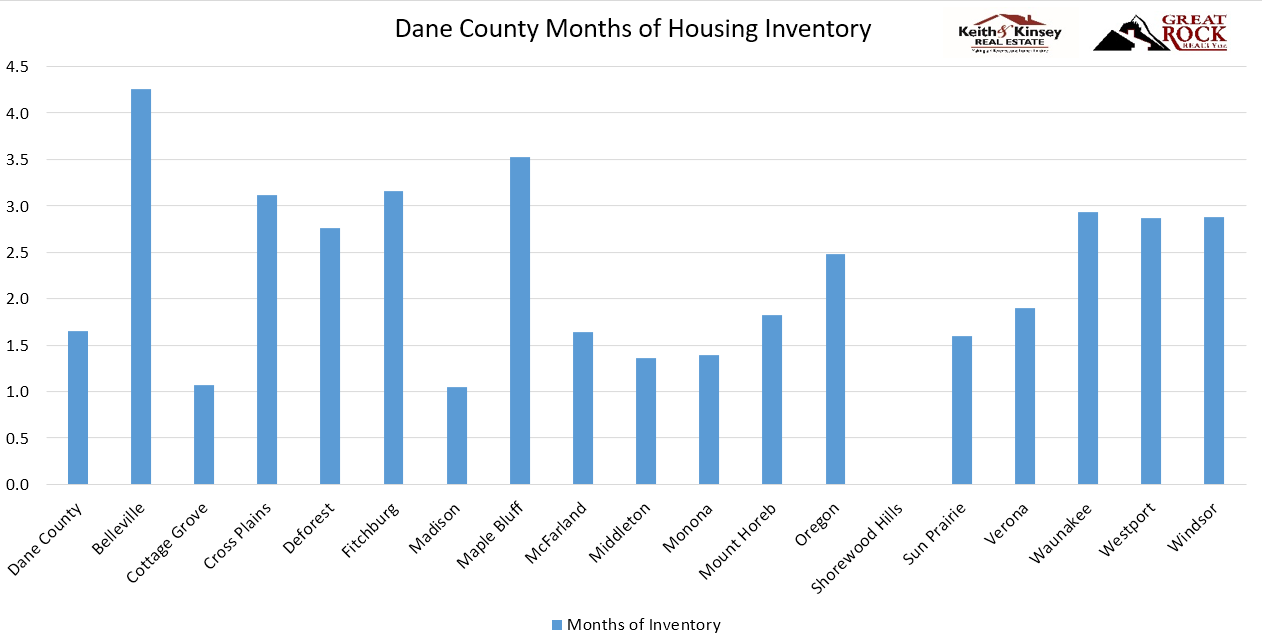 Inventory is tighter in the lower price ranges. If you are buying a house in the under $400,000 price range you'll probably find supply is very limited and competition is fierce, as homes under $400,000 only have a 1.2 month supply in Dane County. As you go up in price range there becomes more available compared to how many have sold. $400,000-$500,000 has a 1.6 month supply, $500,000-$600,000 has a 2.1 month supply and $800,000 is approaching a 3 month supply. So aside from the interest rate, moving up in house might not be so bad of an idea right now. You'll get significant demand for the cheaper house you are selling and less competition for the more expensive house you are buying. …but you still have to be able to afford the mortgage with the current rates.
Hopefully there's a shift in the overall economy soon that would help neutralize the housing market, because even though the market is hot, it's not healthy. In my mind, a healthy market would be a balanced market were a buyer and a seller both feel like they are able to make reasonable decisions, and a buyer doesn't have to give up their first born. Although, I think limited inventory will probably be a challenge for some time yet. Call me crazy, but for the housing market sake I think an economic recession might be a good thing. It would take some buyers out of the market, put less pressure on increasing prices, help interest rates fall back, and reduce buyer competition. Only time will tell what will actually happen.
---
---